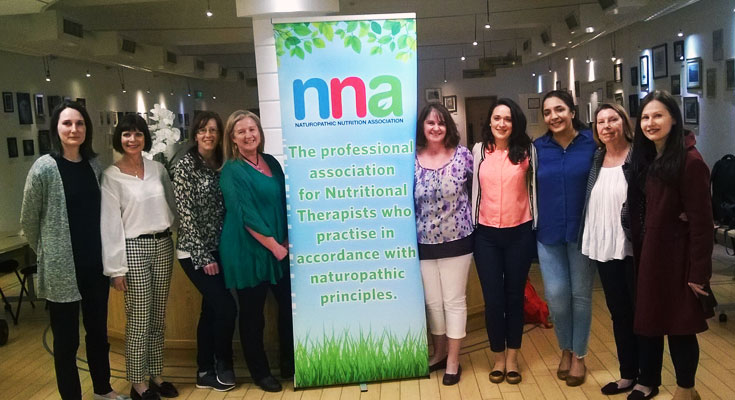 Meet the NNA Committee
Caroline Gilmartin Dip NNT, Irid. MNNA, GNC – NNA Interim Chair, Communications and PR
Caroline originally trained as a lawyer gaining a Law degree and Masters in International Business Law from Manchester University. She worked in London for 15 years in Banking and became interested in nutrition due to her own health problems and those of her family. After qualifying from Natural Healthcare College as a Naturopathic Nutritional Therapist she set up Nutraclin in Kent and London. She uses iridology in her assessments and specialises in stress using a Heart Rate Variability machine to assess the autonomic nervous system. She is married with two young children which keep her busy and has a big passion for travelling.


Sam Downton Dip NNT, Dip Irid. MNNA, GNI, CNHC, GNC – NNA Registrar
Sam became interested in the benefits of using food as medicine after significantly improving her own asthma & IBS symptoms using nutrition to heal the body and understanding which foods were causing her body to become 'congested'. After qualifying from Natural Healthcare College as a Naturopathic Nutritional Therapist she set up her practice in Newport Pagnell and is passionate about working with her clients to educate & empower them to make choices using up-to-date and relevant nutritional advice which benefit their health and natural balance. Sam is currently training to become a Master Iridologist with Holistic Health College and plans to expand this area into her practice. Outside of nutritional therapy Sam loves to spend time with her two children and husband as well as train at the gym and run; she has completed a number of marathons.


Annabel Caulfield Dip NNT, MNNA, GNC – NNA Secretary
Annabel originally studied Education to Masters level, and worked in Higher Education for over 20 years. Having struggled with her weight, and suffered with migraines and digestive problems herself she decided to explore the field of naturopathic nutrition for some answers, and has never looked back. After 3 years of study with the Natural Healthcare College, she is now a fully qualified Naturopathic Nutritional Therapist and operates under the banner of Purple Vitality in the Milton Keynes area. She has a particular interest in helping women whose children are growing older revitalise themselves by offering them individualised diet and lifestyle programmes. Outside of work she loves to spend time with her two boys, practise yoga and has a passion for writing.


Lindsay Powers, Dip NNT, MNNA, GNC – NNA Treasurer
Lindsay graduated from Nottingham Trent University with a BA(Hons) Humanities and went on to have a demanding career as a manager in the Logistics industry for some years. Lindsay then decided to leave her career to be a full time mum to her two daughters. During this time she developed an interest in nutrition as she began research food and nutrition for her children. Taking this a step further she decided to turn her new found passion for nutrition into something more formal and completed her Naturopathic Nutrition Diploma with the Natural Healthcare College. Lindsay now practices Naturopathic Nutritional Therapy in the Portsmouth and Southsea areas of Hampshire and is also embarking on an Iridology diplma which she hopes to bring into her practice in the future.


Kelly Youren Dip NNT, MNNA, GNC - NNA Accreditation Officer
Kelly has worked as a Flight Service Manager for a long haul airline for over 20 years and lives with her husband and two grown up daughters.
Like many therapists, it was her own health issues which she resolved through dietary and lifestyle modifications that sparked a passion for nutritional therapy. After learning so much independently she was left with a desire to help others and this led to her enrolling with The Natural Healthcare College where she graduated in 2014. She see clients in and around Southampton alongside her job as cabin crew.


Ailsa Sargent Dip NNT, MNNA, GNC – NNA CPD co-ordinator
Ailsa is a graduate of Natural Healthcare College. In her twenties she was chronically unwell and after several years was fortunate to meet a Naturopath whose advice led to a speedy recovery, so began a passionate interest in health through natural methods. During her career she has run several businesses amongst them a Natural Food Store. After several years living and working in Amsterdam, her last venture was in the UK as owner of an award-winning restaurant.
Kiowa Reynolds Dip NNT, MNNA, GNC - Social Media
Kiowa has had a long battle with her health, being chronically ill from a pre-teen in to her early 20's. This struggle and subsequent journey back to health was the catalyst behind her decision to pursue holistic medicine as a career. Having suffered physical illnesses, Kiowa developed chronic anxiety which she struggled with for many years before finding nutrition - leading her to specialise in all things brain health and mood disorders. Kiowa qualified as a naturopathic nutritional therapist from the College of Naturopathic Medicine London. Since graduating she relocated to Spain where she practised as a therapist and ran an allergen and sugar free baking business. She now practices in Kent and has a special interest in the gut-brain connection. Kiowa has experienced first-hand the amazing benefits that a holistic approach can achieve and is passionate about her work. Her personal interests include reading, cooking, drawing and travelling.
Olivier Sanchez Dip NT ND, rCNHC, MNNA, MGNC, MGNI
Olivier specialises in stress, sleep disorders and other stress-related conditions, including the multi-factorial, gut-related inflammatory and autoimmune diseases. Stress has been identified as a key driver to many health conditions including neurodegenerative disorders. Olivier has graduated in early 2021 in stress, eating disorders and mental health problems to better assist clients who have been affected by recent events and the constant fear perpetuated by the media.
His timely discovery of Naturopathic Nutrition has finally provided the tools he needed to pursue his calling: helping people. Through constant research and studying, Olivier have amassed a complete set of 'tools' with up-to-date evidence to help his clients reach an optimum state of health. He is also a registered Iridologist and he is certified in sport & nutrition and in cleanse, detox and weight management. Ongoing training includes NLP and personal performance coaching, both exceptional techniques, he believes, are essential for identifying blockages and barriers that prevent a multitude of people from moving forwards and becoming the person they only dream of. He is also a certified mycotherapist, which allows him to use medicinal mushrooms in a wide range of targeted protocols.
Susie Willows - Student Rep
Susie has qualified as a Nutrition Advisor (Stage 1) with the Natural Healthcare College and is now a Stage 2 student working towards full qualification as a Naturopathic Nutritional Therapist. Having been brought up by an acupuncturist she has always had an interest in the naturopathic approach to healthcare. This, coupled with her love of food, drew her towards studying nutrition. Susie works with Jacqueline as a fellow student rep to represent NNA student members at the monthly committee meetings and supports students transitioning from stage 1 to 2.


Non-committee members who help the team:-
Cora Weekes – Mentoring
Other:-
Jackie Day - Fellow
Dana Kraft - Fellow
Dr Dietrich Klinghardt - Fellow